1st Gear Driver Training
meet me
Let me introduce myself, my name is Grant Tucker and I have been a driving instructor for approximately 5 years, and have lived in the Noarlunga area my entire life.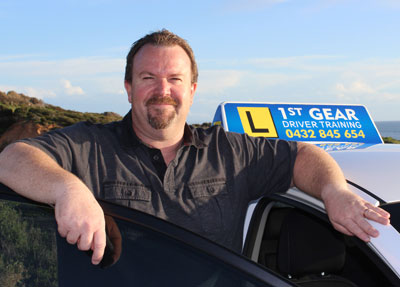 I became a driving instructor, originally because I had to teach my own kids, and found that I had no idea how I should start. So from those early days, I set about taking the M.D.I (motor driving instructor course) being run for the government and then went on to get the CBT&A accreditation licence as well as studying several other required courses and competencies. These courses were a lot more involved than I thought they would be and took some time to get through, and so I found a lot of my experiences are very much the same as those of a new learner driver.
I realise that learning is exciting and fun but also a bit scary, very complicated and involves a fast learning curve as we try to keep pace with all the other drivers on today's busy and crowded roads.
There is a lot of information to absorb while trying to drive in a way that is safe and controlled. All these things take time to perfect, and getting a licence may not be as easy as you first think, so, give me a call and let's get started, I always aim to be patient and calm, while not expecting any more from you than you are comfortable with, as a relaxed and informative lesson is the best way, in my opinion to grow and develop your new skills.
Being a Good Driver Is More Than Just Driving
skill areas that are important to be a good driver
Rules of the Road - Law Awareness
99%